Literature Review
Author: Margaret R. Moreland, J.D., M.S.L.S..
Source: Volume 15, Number 04, April/May 2010 , pp.55-57(3)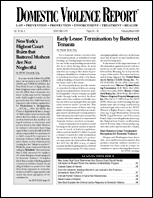 next article > |return to table of contents
Abstract:
This column summarizes and discusses recent articles in areas of interest to readers of DVR: "Turning a Blind Eye: Perjury in Domestic Violence Cases", by Njeri Mathis Rutledge, 39 New Mexico Law Review 149 (2009); "Domestic Violence: Statistical Data for Lawyers Considering Equal Protection Analysis", by Molly Dragiewicz and Yvonne Lindgren, 17 American University Journal of Gender, Social Policy & Law 229 (2009).
Keywords: Crawford v. Washington; Woods v. Horton

Affiliations: 1: Pace University School of Law Library.