Literature Review
Author: Margaret R. Mead, J. D., M. L. S..
Source: Volume 15, Number 05, June/July 2010 , pp.71-74(4)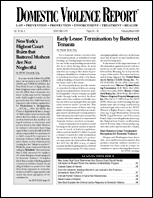 < previous article |next article > |return to table of contents
Abstract:
This column summarizes and discusses recent articles of interest to readers of DVR: "Pulling the Trigger: Separation Violence as a Basis for Refugee Protection for Battered Women", Maris Silenzi Cianciarulo and Claudia David, 59 American University Law Review 337 (2009); "Sign on the Dotted Line: Recognizing Domestic Violence in Paternity Statutes and Procedures", Kiri DeLaubenfels, 13 Journal of Gender,Race & Justice 181 (2009); and "Remedies for Children When Non-Resident Parents Abandon Them After Separation or Divorce", Marjory D. Fields, 22 American Academy of Matrimonial Law 291 (2009).
Keywords: Matter of Acosta; Matter of R-A

Affiliations: 1: Pace University School of Law Library.