"My Child Wants to Testify": Understanding the Prevailing Law of Child Testimony in Custody Disputes
Author: Romilda Crocamo, Esq..; Joan Zorza, Esq..
Source: Volume 15, Number 05, June/July 2010 , pp.55-60(6)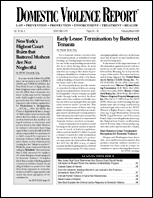 next article > |return to table of contents
Abstract:
The purpose of this article is to provide domestic violence survivors and their attorneys with a road map to better understand the complicated legal maze of child testimony in custody litigation in Pennsylvania and other states.
Keywords: Pennsylvania has a harsher standard than most states for allowing children to testify; Crawford v. Washington

Affiliations: 1: Women's Resource Center, Inc..