Literature Review
Author: Margaret R. Mead, J. D., M. L. S..
Source: Volume 15, Number 06, August/September 2010 , pp.86 -88(3)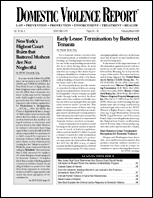 < previous article |next article > |return to table of contents
Abstract:
This column summarizes the conclusions and findings of the recent articles: "She Can Do No Wrong: Recent Failures in America's Immigration Courts to Provide Women Asylum from 'Honor Crimes' Abroad", by Shira T. Shapiro,18 American University Journal of Gender, Social Policy & the Law 293 (2009-10); "The Efficacy of a Police-Advocacy Intervention for Victims of Domestic Violence: 12 Month Follow-Up Data", by Carla Smith Stover, Miriam Berkman, Rani Desai, and Steven Marans, 16 Violence Against Women 410 (2010); "Stop the Killing: Potential Courtroom Use of a Questionnaire That Predicts the Likelihood That a Victim of Intimate Partner Violence Will Be Murdered by Her Partner", by Amanda Hitt and Lynn McLain, 24 Wisconsin Journal of Law, Gender & Society 277 (2009).
Keywords: 2009 Annual Law School Writing Competition on Domestic Violence; sharaf; ardh

Affiliations: 1: Pace University School of Law Library.