Supreme Court Decisions : Shatzer and Quon
Author: Staff Editors.
Source: Volume 15, Number 06, August/September 2010 , pp.85-85(1)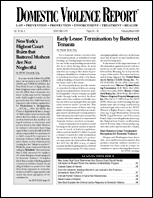 < previous article |next article > |return to table of contents
Abstract:
This short article summarizes two recent US Supreme Court decisions, Maryland v. Shatzer and City of Ontario, CA v. Quon.
Keywords: U.S. Supreme Court changed what defendant must do to invoke his right not to speak to the police after having been given a Miranda warning.

Affiliations: .