Civil Domestic Violence Cases
Author: Anne L. Perry, Esq..
Source: Volume 15, Number 06, August/September 2010 , pp.83-84(2)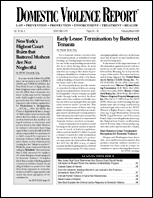 < previous article |next article > |return to table of contents
Abstract:
This article discusses recent cases on the subject of civil domestic violence, including Sinclair v. Sinclair , 08CA16 & 08CA25 (Ohio Ct. App. 2009); Keith R. v. Superior Court , G041642 (Cal. Ct. App. 2009); Samuel S. v. Dayawathie R. , 2008-07111 (N.Y. App.Div. 2009); Knight v. Dep't of Social Srvs. , 2009 Va. App. LEXIS 8 (Va. Ct. App. 2009).
Keywords: Ohio: Court Erred in Limiting Protection Order to One Year on Finding That Divorce Proceeding Would Alleviate Need for Protection; California: Restraining Order Was Not Permanent Custody Decision, so Best Interest Standard Applied to Move-Away Determ

Affiliations: 1: Contributing Editor at DVR.