Excellent New Custody Tool
Author: Joyanna Silberg, Ph.D. .
Source: Volume 15, Number 06, August/September 2010 , pp.81-82(2)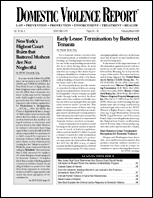 < previous article |next article > |return to table of contents
Abstract:
Professionals who interface with abused children or victims of domestic violence [DV] are encountering an increasingly more common scenario. Despite laws in every state protecting children from being in the custody of abusive fathers, approximately half of women who have been domestic violence victims and watched themselves and their children suffer from physical, emotional, or sexual abuse are losing custody of these children in family court proceedings to the parents of the children who perpetrated that violence. Domestic Violence, Abuse and Child Custody, by Mo Therese Hannah, Ph.D. and Barry Goldstein, Esq., finally gives the legal community, advocates, mental health professionals, and the media some answers. Most importantly, the book outlines a roadmap for potential changes that could finally expose the dirty secrets of family court and prevent these tragic outcomes in the future.
Keywords: compulsory reading for Family Court Judges, family law attorneys, DV advocates, custody evaluators, and child mental health professionals

Affiliations: 1: Leadership Council on Child Abuse & Interpersonal Violence.