Rhode Island Custody and Visitation System: Issues and Solutions
Author: Carmen Recalde-Russo.
Source: Volume 15, Number 06, August/September 2010 , pp.81-89(9)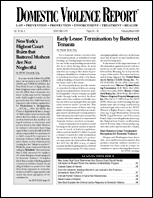 next article > |return to table of contents
Abstract:
This article is based on the report "Safety for Children: A Report on the Impact of Rhode Island's Custody System on Victims of Domestic Violence and Their Children." For too many victims of DV, a life free of abuse and injustice is not a reality even after they leave the abusive relationship. In their quest for freedom, they turn to the courts in search of safety and to community agencies for support. Many of them quickly learn that the tools the system makes available are insufficient to maintain their safety and their children's well-being. Too often victims endure lengthy and excruciating child custody and visitation cases. Throughout the process, they feel re-victimized and trapped in a system that is not always aware of the dynamics of power, control and abuse that characterize DV cases. For many children, the consequences are increasingly devastating as the violence continues to be part of their lives. Many of the members of SOAR, who are all survivors of DV, have firsthand knowledge of the Family Court system. Their struggles inspired the Child Custody and Visitation Solutions Project. The article is a first-person account of that organization's methodology and operations.
Keywords: Rhode Island Family Court; Rhode Island Legal Services; Roger Williams University School of Law; Family Services of Rhode Island; Blackstone Valley Advocacy Center; Elizabeth Buffum Chace Center; Domestic Violence Resource Center of South County; Soj

Affiliations: 1: Rhode Island Coalition Against Domestic Violence.