Literature Review
Author: Margaret R. Moreland, J.D., M.S.L.S..; .
Source: Volume 16, Number 02, December/January 2011 , pp.23-26(4)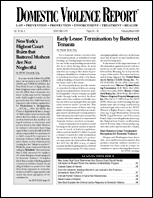 < previous article |next article > |return to table of contents
Abstract:
This column reviews three recent articles of interest to readers of DVR: "How the Family and Medical Leave Act Can Offer Protection to Domestic Violence Victims in the Workplace", by Elissa Stone, 44 University of San Francisco Law Review 729 (2010); "Supreme Court Advocacy and Domestic Violence: Lessons From Vermont v. Brillon and Other Cases Before the Court", Cheryl Hanna, 24 St. John's Journal of Legal Commentary 567 (2010); "Friend Request or Foe? Confirming the Misuse of Internet and Social Networking Sites by Domestic Violence Perpetrators", Laurie L. Baughman, 19 Widener Law Journal 933 (2010).
Keywords: Hanna involved in filing of amicus brief in Vermont v. Brillon

Affiliations: 1: Pace University School of Law Library.