What Relationships Permit Courts to Issue Orders of Protection
Author: Anne L. Perry, Esq..
Source: Volume 16, Number 02, December/January 2011 , pp.21-22(2)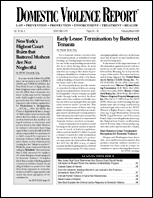 < previous article |next article > |return to table of contents
Abstract:
Every state has a definition of who is subject to an order of protection for committing domestic violence, and often there are ambiguous areas as to who can be protected. Some states have very broad definitions and apply them broadly, but other states do not, and some are in between. The three cases covered in this article illustrate that it is not always obvious who will be protected under each state's DV statute. Cases covered are Seye v. Lamar , No. O-22430-08 (N.Y. App. Div. 2010); State v. Disher, No. 07SC1088 (Colo. 2010); Willis v. Rhinehart , No. O-6085-08 (N.Y. App. Div. 2010).
Keywords: New York: Petitioner's Daughter's Aunt Is Not Family or Household Member for Purposes of Protective Order; Colorado: Evidence of a Sexual Relationship Not Necessary to Establish an Intimate Relationship; New York: Termination Date of Relationship

Affiliations: 1: Contributing Editor at DVR.