New Books That Make a Difference
Author: Joan Zorza, Esq..
Source: Volume 16, Number 02, December/January 2011 , pp.19-22(4)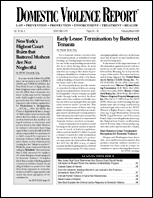 < previous article |next article > |return to table of contents
Abstract:
This column reviews two important recent books: "Dream Big: A Simple, Complicated Idea to Stop Family Violence" , by Casey Gwinn with Gale Strack (Wheatmark, 232 pages, 2010) and "Time's Up: A Guide on How to Leave and Survive Abusive and Stalking Relationships", by Susan Murphy Milano (Dog Ear Publishing, 208 pages, 2010).
Keywords: Family Justice Center; FEAR: Facilitator Ending the Abusive Relationship

Affiliations: 1: Editor, Domestic Violence Report.