Feminist Insights Informing Woman Abuse
Author: Joan Zorza, Esq..
Source: Volume 16, Number 02, December/January 2011 , pp.17-18(2)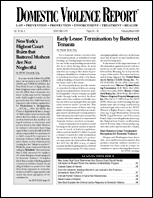 < previous article |next article > |return to table of contents
Abstract:
Increasingly, some researchers of DV are claiming that women are at least as abusive as men, and are often being very critical of those who disagree with them. Walter DeKeseredy, in a paper that he presented on October 26, 2010 at the University of Haifa Controversial Issues in Partner Study Group, refuted the misconceptions of these critics.
Keywords: myths and realities about feminism; Canadian Psychological Association

Affiliations: 1: Editor, Domestic Violence Report.