Literature Review
Author: Margaret R. Moreland, J.D., M.S.L.S..
Source: Volume 16, Number 03, February/March 2011 , pp.39-42(4)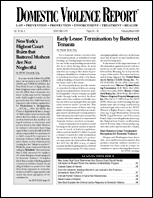 < previous article |next article > |return to table of contents
Abstract:
This column is a review of recent articles of interest to readers of DVR: "Failure to Protect From Exposure to Domestic Violence in Private Custody Contests", by Leslie Joan Harris, 44 Family Law Quarterly 169 (2010); "Accountability in Teenage Dating Violence: A Comparative Examination of Adult Domestic Violence and Juvenile Justice Systems Policies", by Diane L. Zosky, 55 Social Work 359 (2010); and "Same-Sex Domestic Violence: Why Victims Are More at Risk", by Brian Tesch, Debra Bekerian, Peter English & Evan Harrington, 12 International Journal of Police Science and Management 526 (2010).
Keywords: Nicholson v. Scoppetta; In re Gault; Kent v. United States; In re Winship; Thurman v. City of Torrington

Affiliations: 1: Pace University School of Law Library.