Cases Involving Orders of Protection and Their Enforcement
Author: Anne L. Perry, Esq..
Source: Volume 16, Number 03, February/March 2011 , pp.35-38(4)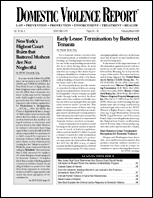 < previous article |next article > |return to table of contents
Abstract:
This column discusses recent court cases--- details, decisions, and implications--- involving orders of protection: S.D. v. M.J.R. , No. A-6107-08T2 (N.J. App. Div. 2010); In re Rainey, No. 81244-6 (Wash. 2010); Freeman v. Freeman, No. 82283-2 (Wash. 2010); Hemenway v. Hemenway, No. 2008-829 (N.H. 2010); Dasch v. Kelley, No. 2009-CA- 001539-ME (Ky. Ct. App. 2010)
Keywords: New Jersey: Court Must Issue Restraining Order Despite Husband's Religious Belief That Wife Must Comply With His Sexual Demands; Iman's claim that Islamic law requires a wife to submit to her husband not challenged; Washington: Lifetime No-Contac

Affiliations: 1: Contributing Editor at DVR.