Restorative Justice: Does It Work for DV? --- Part I
Author: Joan Zorza, Esq..
Source: Volume 16, Number 03, February/March 2011 , pp.15-18(4)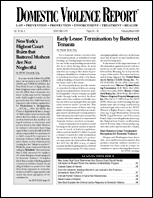 < previous article |next article > |return to table of contents
Abstract:
Part I of this two-part article explains what RJ is, why it is such a popular idea, why it is being held out as having so much promise, and finally, some of the problems with RJ, especially when it is used in cases involving domestic violence (DV) and other issues involving gender violence and power differences. Part II, which will appear in the next issue of DVR , will examine in greater detail how RJ endangers battered women, the problems with its lack of an enforcement mechanism, the way in which its imposition of confidentiality can further exacerbate the power difference between the abuser and the victim, and how RJ has failed its promise of ending domestic and other violence. This article is a discussion of the history, pros and cons of RJ.
Keywords: What Is Restorative Justice?

Affiliations: 1: Editor, Domestic Violence Report.