USCIS Issues Vital Fact Sheet to Protect Foreign Brides From Abuse
Author: Heather M. Heiman, J.D..
Source: Volume 16, Number 03, February/March 2011 , pp.33-36(4)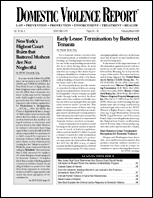 next article > |return to table of contents
Abstract:
On October 27, 2010, US Citizenship and Immigration Services (USCIS) released a much-anticipated Fact Sheet regarding the legal rights and resources available to immigrant victims of domestic violence in the United States. This Fact Sheet is a core component of the International Marriage Broker Regulation Act (IMBRA), a federal law enacted in 2006 that regulates the growing international marriage broker (IMB) industry and provides lifesaving protections to prospective foreign brides who may immigrate to the United States. The Fact Sheet's release, though more than four years after the statutory deadline, marks a significant milestone in IMBRA's implementation and will be a powerful tool to prevent violence and avert needless tragedies. This article covers this issue and contains a sidebar on the Tahirih Justice Center, with which the author is affiliated.
Keywords: abuse of foreign women who meet American husbands

Affiliations: 1: Tahirih Justice Center.