Complete Issue
Author: Joan Zorza, Esq..
Source: Volume 16, Number 05, June/July 2011 , pp.65-80(16)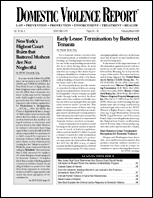 < previous article |return to table of contents
Abstract:
This is the complete issue, Volume 16 Number 5. It includes the full text of all the articles listed above, with hyperlinks from table of contents entries to articles and linked article continuations, to facilitate reading.
Keywords: The National Organization for Men Against Sexism; NOMAS; Ben Atherton-Zeman; Ed Barton; Moshe Rozdzial; Parental Alienation Syndrome; Liability for Failing to Respond to Officer-Involved Domestic Violence; Bonnie Campbell first Director of the Viole

Affiliations: 1: Editor, Domestic Violence Report.