Literature Review
Author: Margaret R. Moreland, J.D., M.S.L.S..
Source: Volume 16, Number 05, June/July 2011 , pp.71-74(4)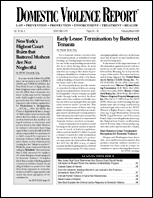 < previous article |next article > |return to table of contents
Abstract:
This column summarizes the findings and conclusions of recent articles of interest to readers of DVR. Including in this issue: "Protecting Victims of Domestic Violence Under the UCCJEA", by Deborah Goelman and Darren Mitchell, 61 Juvenile and Family Court Journal 1 (2010) and "The New Age of Stalking: Technological Implications for Stalking", Cynthia Fraser, Erica Olsen, Kaofeng Lee, Cindy Southworth, and Sarah Tucker, 61 Juvenile and Family Court Journal 39 (2010).
Keywords: Uniform Child Custody Jurisdiction and Enforcement Act; using technology for surveillance

Affiliations: 1: Pace University School of Law Library.