Three DV Cases Related to Property and Home
Author: Anne L. Perry, Esq..
Source: Volume 17, Number 01, October/November 2011 , pp.5-6(2)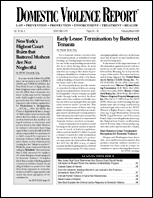 < previous article |next article > |return to table of contents
Abstract:
This article summarizes, discusses, and comments on recent court cases involving domestic violence (DV), including the Indiana case Barnes v. State , No. 82S05-1007-CR-343; Wolcott v. Wolcott , 78 Mass. App. Ct. 539 (2011); and Araya v. Keleta , Nos. 09-FM-1203 and 09-FM-1204.
Keywords: Indiana: No Right to Resist Police Entry Into Home for DV; Massachusetts: Husband Awarded 90% of Marital Estate After Wife Solicited His Murder; District of Columbia: Protective Order Properly Vacated Husband From Home Despite His Ownership of the Pr

Affiliations: 1: Contributing Editor at DVR.