DV Calls Are Not That Lethal: Refuting the Myth That DV Calls Kill More Law Officers
Author: Joan Zorza, Esq..
Source: Volume 17, Number 01, October/November 2011 , pp.3-4(2)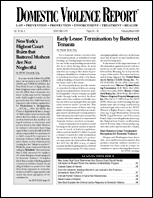 < previous article |next article > |return to table of contents
Abstract:
The author/ journal editor reports that, over the past 30 years she has been periodically asked for data refuting the myth that more police officers are killed responding to domestic violence (DV) calls than when responding to any other type of call. This information is wanted for inclusion in legal motions or briefs; to give to journalists or to include in letters or responses to newspaper or magazine articles; or for purposes of testifying before legislative bodies or administrative agencies, such as those training police officers. She noticed that some of the sources she used had become fairly rusty and was pleased to see that the May 2011 issue of The Police Chief, the magazine of the International Association of Chiefs of Police (IACP), had a whole article addressing the myth at issue. This is not to say that officers are never killed when responding to DV incidents, because they are, and it is always a very tragic and serious problem when anyone kills an officer. But the authors demonstrate that the bulk of research points to burglaries and robberies as presenting the greater risk to officers.
Keywords: Shannon Meyer, Seattle; Randall H. Carroll, Chief of Police (Retired), Bellingham, Washington

Affiliations: 1: Editor, Domestic Violence Report.