Complete Issue
Author: Joan Zorza, Esq..
Source: Volume 17, Number 02, December/January 2012 , pp.17-32(16)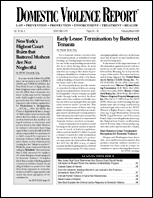 < previous article |return to table of contents
Abstract:
This is the complete issue, Volume 17 Number 2. It includes the full text of the articles listed above, with hyperlinks from table of contents entries to articles and linked article continuations, to facilitate reading. Editor's Note: This issue of DVR contains two important articles we wanted to run in their entirety. The lead article tells of the stunning win of Jessica Lenahan (Gonzales) against the U.S. government in the Inter-American Commission on Human Rights, the very first domestic violence case from the U.S. to win in that international body, and reversing Jessica Gonzales's tragic loss in the U.S. Supreme Court against the Castle Rock Police Department in 2005. The review of Phyllis Chesler's new edition of her book, Mothers on Trial, tells how, 25 years later, women and children are, if anything, subjected to even more discrimination in our child custody decisions, and that the bias against women in the U.S. has spread to most countries throughout the world.
Keywords: Castle Rock (Colorado) v. Jessica Gonzales; Inter-American Human Rights System; "good enough" mothers; "bad enough" fathers; MHPs (Mental Health Professionals) blame mothers; smother fathers

Affiliations: 1: Editor, Domestic Violence Report.