The Use of GPS Technology in Cases of Gender Violence Around the World
Author: Victoria Burt.
Source: Volume 17, Number 03, February/March 2012 , pp.39-40(2)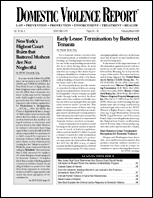 < previous article |next article > |return to table of contents
Abstract:
While the use of GPS to monitor domestic violence (DV) perpetrators is still very new in the U.S., it is encouraging to see that it is beginning to be used in other places outside of the continental U.S. This article discusses the use of GPS technology to monitor domestic abusers around the world.
Keywords: GPS use in Spain; GPS use in France; GPS use in Scotland; GPS use in Puerto Rico; GPS use in Peru; GPS use in Portugal; GPS use in Brazil

Affiliations: 1: Harvard Law School.