Tiana's Story
Author: Juhyun Park.
Source: Volume 17, Number 03, February/March 2012 , pp.37-39(3)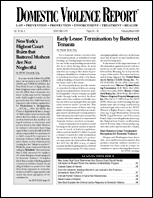 < previous article |next article > |return to table of contents
Abstract:
Tiana Notice was stabbed to death on Valentine's Day, 2009. Her ex-boyfriend, James Carter, was found guilty of her murder and of violating the restraining order she had against him. Carter had repeatedly violated the restraining order without consequence, although Tiana kept careful track of and reported several violations. When he slit her tires, the police told her it was a property crime. The day before she died, when she went to the police to report multiple violations of the restraining order, they told her that they could not verify the existence of her restraining order, and that "it was a long weekend and they were short-staffed." When James Carter emailed Tiana the last time, and told her not to tell the police, she went to the police for protection, and was told he would be arrested. But the police did not arrest him. Instead, they called him and told him that if they found out he was the one who sent the email, he would be arrested. Having been tipped off as to Tiana's disobedience of his warning to her not to seek protection, Carter got a knife, went to her apartment, and lay in wait until she returned home. She had the presence of mind to call 911 as she was bleeding to death, and the tape was played at Carter's trial. After Tiana's death, her father, Alvin Notice, created the Tiana Angelique Notice Foundation, and has been a powerful advocate for strengthening law enforcement protections for endangered women in high-risk domestic violence cases. The author's clinic worked with Alvin and others in supporting new legislation in Connecticut.
Keywords: Linda Blozie; Connecticut Coalition Against Domestic Violence; CCADV; House Speaker Chris Donovan; Diane Rosenfeld; Castle Rock v. Gonzales

Affiliations: .