"The Warning Signs Were There": The Jeanne Geiger Crisis Center Model, High Risk Teams, and Community Adaptation
Author: Elizabeth Hague.; Emma Freeman .; Victoria Burt.
Source: Volume 17, Number 03, February/March 2012 , pp.35-38(4)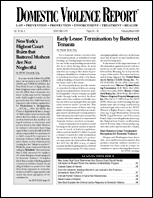 < previous article |next article > |return to table of contents
Abstract:
"After Dorothy's husband shot her, the [Jeanne Geiger Crisis Center] made a commitment not only to screen every single woman for the warning signs, but also to bring everyone together to interrupt that cycle of escalating violence ... There have been no domestic violence homicides in that community since the project began." In 2010, Vice President Biden praised the Jeanne Geiger Crisis Center (JGCC or Center) in Newburyport, MA with these words, drawing national attention to the Center's innovative model and highly successful results. Most importantly, Vice President Biden offered the Center's model as a way forward: "We need to replace what we have been doing and replicate this kind of success." This article will discuss the remarkable-- and achievable--successes of the Newburyport approach to DV intervention, outlining how communities can implement their own version of Newburyport's high-risk model and attain similarly powerful results.
Keywords: Kelly Dunne; Chief of Operations for the JGCC

Affiliations: .