In Defense of Danger Assessment
Author: Emma Freeman.
Source: Volume 17, Number 03, February/March 2012 , pp.33-37(5)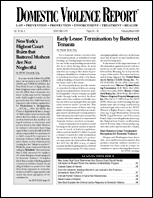 < previous article |next article > |return to table of contents
Abstract:
On October 25, 1999, Jean Hosmer renewed a restraining order in the Hampshire Massachusetts Family and Probate Court against her estranged husband of 18 years, William Bernotas. Bernotas had never physically struck Hosmer, a resident of Pelham, Massachusetts and the mother of two young children. However, Bernotas's conduct towards Hosmer had been "so bizarre" that she felt constantly unsafe; after Bernotas made a "veiled threat to kill" Hosmer, she filed papers indicating that she feared for her life. As she approached her car after leaving the courthouse where Judge Stephen Rainaud had just renewed her order or protection, Bernotas shot Hosmer at close range, killing her. Bernotas then shot and killed himself. This article summarizes discussions about how tragedies like this may have been avoided, in part through danger assessment procedures.
Keywords: strangulation as a mechanism of abuser control

Affiliations: 1: Harvard Law School.