The High Risk Team Model and GPS Offender Monitoring: Stopping DV in Its Tracks
Author: Diane L. Rosenfeld.
Source: Volume 17, Number 03, February/March 2012 , pp.33-36(4)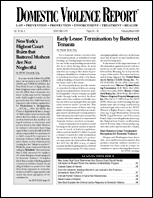 next article > |return to table of contents
Abstract:
Perhaps the most promising development in the prevention of domestic violence homicides is the creation of the High-Risk Team Model that has been developed and led by the Jeanne Geiger Crisis Center in Newburyport, MA. The Greater Newburyport High Risk Response Team is comprised of representatives from advocacy groups, law enforcement, probation or parole, batterer intervention, prosecution, and others. Centered on a continuing danger assessment of high-risk cases, the Team communicates across disciplines to address and prevent the escalating threats so common in DV homicides (and DV cases in general). The Team uses stronger containment methods such as GPS monitoring of the DV offender to promote victim safety. DVR addresses this innovative solution beginning with this issue. The central tenet of this work is the belief that DV homicide is so predictable as to be preventable. This article by an involved participant describes the background of critical cases and the use of the Team approach.
Keywords: danger assessment tools; Cindy Bischof; Tiana Notice

Affiliations: 1: Harvard Law School.