Complete Issue
Author: Joan Zorza, Esq..
Source: Volume 17, Number 05, June/July 2012 , pp.65-80(16)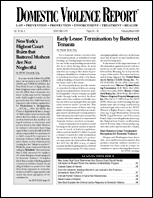 < previous article |return to table of contents
Abstract:
This is the complete issue, Volume 17 Number 5. It includes the full text of all the articles listed above, with hyperlinks from table of contents entries to articles and linked article continuations, to facilitate reading.
Keywords: Abuse-Related Fatalities and Near Fatalities Too Rare to be Basis for Intervention Tool; Level of Control in Relationship Predicts Subsequent Harm Better Than the Level, Frequency, or Nature of Physical Violence; legal protections as abuse tactic; pa

Affiliations: 1: Editor, Domestic Violence Report.