Disappointing Custody Decisions All Favor Fathers
Author: Anne L. Perry .
Source: Volume 17, Number 05, June/July 2012 , pp.69-72(4)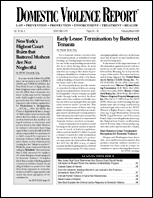 < previous article |next article > |return to table of contents
Abstract:
This column is a round-up of recent custody decisions with a common outcome, favoring fathers. Cases include: Jordan v. Jordan , Nos. 09-FM-1152, 09-FM-1337, and 10-FM-375 (D.C. Ct. App. 2011); In re Miller and Todd , No. 2009-806 (N.H. 2011); Hunter v. Hunter , No. 2D10-4810 (Fla. Ct. App. 2011); Santiago v. Halbal , Slip Op. 07571 (N.Y. Ct. App. 2011); G.C. v. R.S. , No. 1D11-2710 (Fla. Ct. App. 2011).
Keywords: District of Columbia: Father's Alienation From Daughter Outweighs History of Violence as Court Upholds Joint Custody Order; New Hampshire: Mother's Attempts to Protect Children From Sexual Abuse by Father May Result in Loss of Custody as Court Ov

Affiliations: 1: Contributing Editor at DVR.