GPS: Frequently Asked Questions
Author: Laura Taylor.
Source: Volume 17, Number 05, June/July 2012 , pp.67-69(3)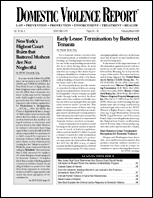 < previous article |next article > |return to table of contents
Abstract:
In a question-and-answer format, the author addresses a spectrum of questions regarding the application of a GPS (Global Positioning System) tracking system in monitoring abusers movements: issues including how they operate, costs and practicality of their use, and limitations.
Keywords: inclusion zone; exclusion zone

Affiliations: 1: Harvard Law School.