Paper Abuse: Documenting New Abuse Tactics
Author: Susan L. Miller.; Nicole L. Smolter.
Source: Volume 17, Number 05, June/July 2012 , pp.65-67(3)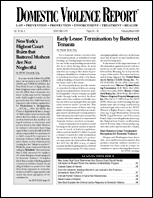 < previous article |next article > |return to table of contents
Abstract:
It is naïve to think that abuse ends once a violent relationship is over. In fact, research reveals that battered women are at higher risk of serious injury or death following the termination of a relationship. In addition to the heightened risk of physical violence, many victims are also subject to other forms of abuse as well as stalking. "Paper abuse" can have debilitating consequences and needs greater attention. This article discusses that component of abuse.
Keywords: legal protections as abuse tactic; paper abuse differs from traditional stalking

Affiliations: 1: University of Delaware; 2: University of Delaware.