Literature Review
Author: Margaret R. Moreland, JD, MSLS.
Source: Volume 17, Number 06, August/September 2012 , pp.85-87(3)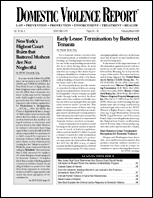 < previous article |next article > |return to table of contents
Abstract:
This article summarizes and discusses the findings and conclusions of recent articles of concern to readers of DVR, including, "Battered and Convicted: One State's Efforts to Provide Effective Relief", by Carrie Hempel, 25 Criminal Justice 24 (2011) and "Where Do "Domestic Violence" Statistics Come From and Why Do They Vary So Much?", by Michael P. Johnson.
Keywords: California the only state with habeas statute that explicitly provides a remedy for battered women convicted of murder

Affiliations: .