Cases From Around the Country
Author: Anne L. Perry, Esq..
Source: Volume 17, Number 06, August/September 2012 , pp.81-83(3)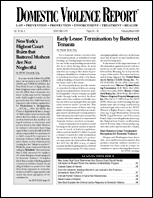 < previous article |next article > |return to table of contents
Abstract:
This column discusses the background, decisions, and implications of recent cases of interest to readers of DVR; in this issue: Hohman v. Dery, No. 2010-CA-001827-ME (Ky. App. 2012); Parrella v. Freely, _ N.Y.S.2d _, 2011 WL 6091331 (N.Y. App. Div. 2011); Riedel v. Vasquez, N.Y. Slip Op. 07058 (N.Y. App. Div. 2011); Albrecht v. Albrecht, 2011 MT 316; Harris v. Ross, No. 10-CAF-07-0057 (Ohio Ct. App. 2011); Knight v. Maher, No. 2010-290 (N.H. 2011)
Keywords: Current and Former Girlfriends of Same Man Do Not Have "Intimate Relationship" for Purposes of Protection Order; No "Direct Relationship" Where Current and Former Girlfriends Only Met Once; No Direct Relationship Where Relationship Was Betwee

Affiliations: .