Mediation Fails, But Protection Orders Succeed in Domestic Violence Cases
Author: Hon. Marjory D. Fields.
Source: Volume 17, Number 06, August/September 2012 , pp.81-85(5)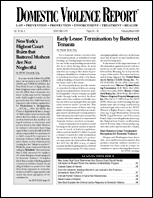 next article > |return to table of contents
Abstract:
History shows that mediation failed as an alternative to civil protection orders and criminal prosecutions for domestic violence. Mediated agreements did not reduce the incidence of intimate partner homicides and violence. This article by Judge Fields summarizes and comments upon the history of law enforcement and the judicial process regarding this issue.
Keywords: family law representation; police refusal to arrest and prosecute; data From 1976 Through 2009

Affiliations: 1: New York Judge, Retired.