From the Literature
Author: Margaret R. Moreland, JD, MSLS.
Source: Volume 18, Number 01, October/November 2012 , pp.7-10(4)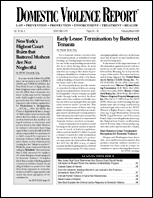 < previous article |next article > |return to table of contents
Abstract:
This column reviews recent articles on subjects of concern to readers of DVR, in this issue: "Breaking the Pathways Between Domestic Violence and Sexually Transmitted Infections: A Test of Two Theories", Catherine M. Mitchell Fuentes, 70 Human Organization 128 (2011); "Research Ethics in Victimization Studies: Widening the Lens", James J. Clark and Robert Walker, 17 Violence Against Women 1489 (2011); "Looking Gift Horse in the Mouth: The Underutilization of Crime Victim Compensation Funds by Domestic Violence Victims", Njeri Mathis Rutledge, 19 Duke Journal of Gender Law & Policy 223 (2011).
Keywords: depression is strongly linked to STI/HIV risk; Supreme Court Justice Anthony Kennedy

Affiliations: 1: Pace University School of Law Library.