Case Law: Focus on Custody, Protective Orders, and Funding
Author: Anne L. Perry .
Source: Volume 18, Number 02, December/January 2013 , pp.22-24(3)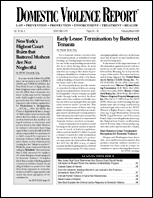 < previous article |next article > |return to table of contents
Abstract:
This column summarizes the background and determination of recent cases of interest to readers of DVR, including: Matter of Eddington v. McCabe , 949 N.Y.S.2d 734 (N.Y. App. Div. 2012); New Jersey Division of Youth & Family Services v. F.M. , 48 A.3d 1075 (N.J. 2012).
Keywords: New York Court Permits Mother to Relocate to Escape Domestic Violence; New Jersey Supreme Court Terminates Mother's Parental Rights for Failure to Protect Children From Abusive Father; Illinois Court Upholds Marriage License Tax to Support DV Fund

Affiliations: .