Complete Issue
Author: D. Kelly Weisberg.
Source: Volume 18, Number 03, February/March 2013 , pp.33-48(16)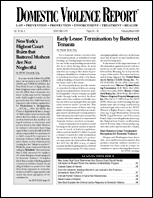 < previous article |return to table of contents
Abstract:
This is the complete issue, Volume 18 Number 3. It includes the full text of all the articles listed above, with hyperlinks from table of contents entries to articles and linked article continuations, to facilitate reading.
Keywords: undercounting as chronic problem in victim surveys; "Intimate Partner Violence, 1993–2010" (NCJ 239203); Law Creates New Felony Crime and Expands Definition of Aggravated Harassment; Law Establishes Statewide Fatality Review Team to Find New Wa

Affiliations: 1: Editor, Domestic Violence Report.