Dating Violence Victimization: Not a One-Time Occurrence
Author: Amy E. Bonomi, Ph.D., MPH.
Source: Volume 18, Number 03, February/March 2013 , pp.39-40(2)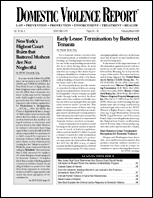 < previous article |next article > |return to table of contents
Abstract:
The death of Yeardley Love at the hands of her ex-boyfriend, George Huguely, startled the nation in May 2010. Yeardley Love, in her senior year and a standout lacrosse player at the University of Virginia, briefly dated Huguely, who was also a UV lacrosse player. Violence plagued the couple's short relationship, including an alleged physical assault of Love while Huguely was intoxicated. Love broke off the relationship after the physical assault, but harassment from Huguely ensued, including threatening email and text messages. Huguely ultimately broke down Love's door and shook her repeatedly, slamming her head against the wall; when police arrived, Love was pronounced dead. Love's tragic death served as a grim reminder that dating violence is a significant problem among adolescents. This article summarizes studies and reports on the subject.
Keywords: dating violence experiences spanning ages 13 to 19

Affiliations: 1: Ohio State University.