That's Not Cool: Mobilizing Teens to Prevent Dating Violence
Author: Sarah Pritchard.
Source: Volume 18, Number 03, February/March 2013 , pp.39-40(2)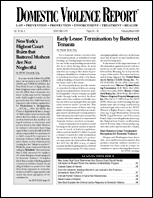 < previous article |next article > |return to table of contents
Abstract:
Every day teens and tweens deal with issues that members of older generations never contemplated. Such issues include: How do I get help if my boyfriend or girlfriend is pressuring me to send a sexy text? Should I break up with my boyfriend/girlfriend on Facebook? What do I do if someone is spreading rumors online about me? Young people in the United States are especially vulnerable to intimate partner violence. One in three adolescent girls in the U.S. is a victim of physical, emotional, or verbal abuse from a dating partner, and young people ages 12 to 19 experience the highest rates of rape and sexual assault. "That's Not Cool" is a national public education initiative that uses examples of power, control, and abuse that can occur in the digital realm—online and via cell phones—to encourage teens to decide for themselves what is appropriate or inappropriate in their relationships.
Keywords: Futures Without Violence; interactive website

Affiliations: 1: Futures Without Violence Office.