Giving Teens a Strong Start: National Dating Violence Prevention Program Prepares Teens for Healthy Relationships
Author: Debbie Lee.; Sally Schaeffer.
Source: Volume 18, Number 03, February/March 2013 , pp.37-38(2)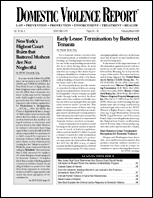 < previous article |next article > |return to table of contents
Abstract:
Fifteen year old Apryl Cornell had been dating her boyfriend for four months before she noticed that something was wrong. Shortly after this point, his behavior escalated from possessive and controlling to violent and dangerous. Apryl was isolated from her friends and family. She was scared and did not know how to get out. Tragically, Apryl's story of teen dating abuse is not uncommon, as nearly one in 10 high school students nationwide have been hit, slapped, or physically hurt on purpose by a boyfriend or girlfriend. Teen dating violence and abuse is a serious public health problem that is related to various adverse health outcomes. According to a new 2012 study, female victims are more likely than others to engage in excessive alcohol use, and experience symptoms of depression, suicidal ideation, and intimate partner violence (IPV) in young adulthood. Male victims of teen dating violence are increasingly likely to exhibit antisocial behavior, contemplate suicide, and adult intimate partner violence (IPV) victimization. What makes Apryl's story special is how she got out of her abusive relationship and went on to help middle school students learn from her experience, thanks to a prevention program called Start Strong: Building Healthy Teen Relationships (Start Strong) . Start Strong is a national program of the Robert Wood Johnson Foundation (RWJF) and the Blue Shield of California Foundation (BSCF) in collaboration with Futures Without Violence. This article discusses that program.
Keywords: grantee communities of Start Strong

Affiliations: 1: Futures Without Violence; 2: Futures Without Violence.