Teen Dating Violence: What Triggered the Law Reform Movement?
Author: D. Kelly Weisberg.
Source: Volume 18, Number 03, February/March 2013 , pp.35-37(3)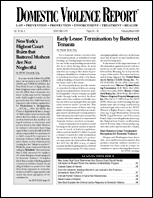 < previous article |next article > |return to table of contents
Abstract:
Intimate partner violence is common not only among adults, but among teenagers as well. According to a national survey, 10% of high school youth are victims of physical violence by a dating partner. 1 Dating violence begins considerably earlier than previously thought—surprisingly, as early as age 11. 2 Until recently, our knowledge of teen dating violence (TDV) was based on high school samples only. That omission has been rectified by recent studies that reveal that a significant number of middle school youth are dating, many of these relationships involve serious sexual activity, and many of these relationships are abusive. Dating violence has severe consequences for youth. The article goes on to discuss these cfonsequences.
Keywords: state legislation confers a proactive role upon schools for TDV prevention; the Saving Money and Reducing Tragedies through Prevention Act; SMART Prevention Act

Affiliations: .