Legislation Review: Governor Cuomo Signs Legislation Strengthening New York's Domestic Violence Laws
Author: D. Kelly Weisberg.
Source: Volume 18, Number 03, February/March 2013 , pp.34-36(3)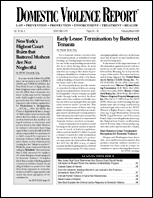 < previous article |next article > |return to table of contents
Abstract:
Governor Andrew M. Cuomo signed into law a robust package of legislation in October 2012 that will improve the criminal justice system's response to domestic violence while at the same time provide survivors with enhanced protections so they can more safely sever ties with their abusers. The bill package signed by Governor Cuomo addresses the recidivist nature of domestic violence by holding serial offenders more accountable for their behavior with the creation of a new crime and new considerations when determining bail, and creates a state-level Fatality Review Team to find new ways to prevent intimate partner homicides. This article summarizes and comments on the legislative package.
Keywords: Law Creates New Felony Crime and Expands Definition of Aggravated Harassment; Law Establishes Statewide Fatality Review Team to Find New Ways to Reduce Intimate Partner Homicides

Affiliations: 1: Editor, Domestic Violence Report.