Intimate Partner Violence Dropped 64% From 1993 to 2010
Author: D. Kelly Weisberg.
Source: Volume 18, Number 03, February/March 2013 , pp.33-34(2)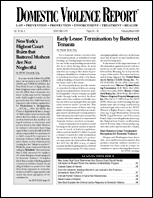 < previous article |next article > |return to table of contents
Abstract:
Intimate partner violence (IPV) declined from about 2.1 million victimizations in 1993 to around 907,000 in 2010, according to a report released recently by the Justice Department's Bureau of Justice Statistics (BJS). This was a 64% decline in the rate of IPV over the 18 year data collection period. The estimates in this report are based on data from BJS's National Crime Victimization Survey (NCVS), which collects information from victims of crime.
Keywords: "Intimate Partner Violence, 1993–2010" (NCJ 239203)

Affiliations: 1: Editor, Domestic Violence Report.