On the Meaning and Limits of Good News From the National Crime Victimization Survey
Author: Franklin E. Zimring.
Source: Volume 18, Number 03, February/March 2013 , pp.33-34(2)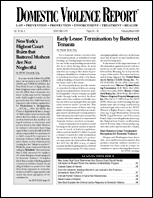 next article > |return to table of contents
Abstract:
Long time students of domestic violence tend to be skeptical of reassuring reports from government sources. Little wonder then that many people are curious about the scientific credibility of the recent press release from the government's National Crime Victimization Survey (NCVS). The headline statistic was eye-catching—between 1994 and 2010 "the overall rate of partner violence declined by 64%, from 9.8 victimizations per 1,000 persons age 12 or older to 3.6 per 1,000" (U.S. Department of Justice, Bureau of Justice Statistics 2012). Is this good news or too good to be true? With one major exception, the findings from the national survey are both plausible and reassuring. My reservation concerns the 3.6 per 1,000 rate reported for 2010. It is an underestimation of the true incidence of partner violence because not all victims participate in the survey or report their attacks. The author goes on to discuss the report and his reservations. Accompanying the article is a chart, "Trends in "Family" and All Other Homicides in the United States, 1980-2010, in the Uniform Crime Report Supplementary Homicide Reports Data Set".
Keywords: undercounting as chronic problem in victim surveys

Affiliations: 1: University of California, Berkeley, School of Law.