Complete Issue
Author: D. Kelly Weisberg.
Source: Volume 18, Number 05, June/July 2013 , pp.65-80(16)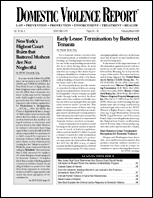 < previous article |return to table of contents
Abstract:
This is the complete issue, Volume 18 Number 5. It includes the full text of all the articles listed above, with hyperlinks from table of contents entries to articles and linked article continuations, to facilitate reading.
Keywords: Sexual Assault Forensic Evidence Reporting Act; SAFER; Trafficking Victims Protection Act; TVPRA; Services, Training, Officers, Prosecutors; SDTOP Grants; sex offender management; Criminal Provisions Relating to Stalking, Including Cyberstalking; Sex

Affiliations: 1: Editor, Domestic Violence Repor.