Violence Against Women Reauthorization Act: Summary of Provisions
Author: D. Kelly Weisberg.
Source: Volume 18, Number 05, June/July 2013 , pp.65-74(10)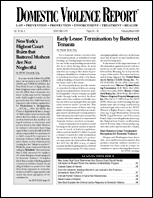 next article > |return to table of contents
Abstract:
The Violence Against Women Reauthorization Act of 2013 (VAWA 2013) (Pub. L. No. 113-4) was passed by Congress and signed into law by President Obama on March 7, 2013. Originally enacted in 1994, VAWA was landmark legislation that sought to improve criminal justice and community-based responses to domestic violence and sexual assault. VAWA was subsequently reauthorized in 2000 and again in 2005. This article highlights some of the key provisions of VAWA 2013. The Act contains 12 Titles, with several sections within each Title; it is a broad piece of legislation. This summary will focus on provisions that are most relevant to victims of domestic violence, dating violence, sexual assault, and stalking.
Keywords: Sexual Assault Forensic Evidence Reporting Act; SAFER; Trafficking Victims Protection Act; TVPRA; Services, Training, Officers, Prosecutors; SDTOP Grants; sex offender management; Criminal Provisions Relating to Stalking, Including Cyberstalking; Sex

Affiliations: 1: Editor, Domestic Violence Repor.