Cell Phone Dangers for DV Survivors
Author: Kaofeng Lee.; Erica Olsen.
Source: Volume 18, Number 06, August/September 2013 , pp.81-83(3)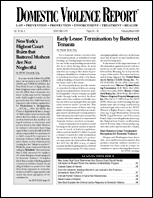 < previous article |next article > |return to table of contents
Abstract:
"Can you hear me now?" is one of the taglines for Verizon Wireless. A more accurate statement should be: "Do you know where I am?" Almost everyone has a cell phone that reveals his or her location every minute of every day. In most cases, sharing one's location is benign and quite helpful. For example, for most users it is useful to get off a plane in a different time zone and have their phones automatically update to the current local time or to be able to pull up nearby restaurants along with reviews, menus, and directions when in a different city. It is even more useful when someone is in an accident or is lost, and the police can trace the person's location based on the cell phone signals. Sharing one's location can be quite dangerous, however, when a stalker or abuser uses this information to stalk, harass, and threaten. This article focuses on location sharing cell phones. Safety tips are provided.
Keywords: abusers may be able to track victims to the shelter or program; family locator application; installing a tracking program or spyware; Senator Al Franken; Location Privacy Protection Act of2012 (S. 1223)

Affiliations: 1: National Network to End Domestic Violence (NNEDV); 2: NNEDV.