Role of Oral Health Professionals in Cases of Intimate Partner Violence
Author: Karin K. Quick, D.D.S., Ph.D..
Source: Volume 19, Number 01, October/November 2013 , pp.6-7(2)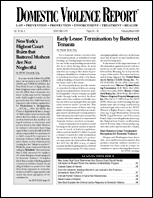 next article > |return to table of contents
Abstract:
Andrea Bennet (not her real name),a 32 year old white female, pays a visit to Dr. S, her dentist. Andrea's chief complaint is a fractured maxillary lateral incisor. Dr. S initiates a conversation. Dr. S notices a healing black eye and bruising on Andrea's right forearm. Andrea does not make eye contact and rubs the armrests of the dental chair unconsciously. This scenario is presented to dental students by standardized patients in simulation. Each student, acting as Dr. S, initiates a conversation with Andrea. In this way, the dental students can practice their skills at communicating with patients who may be experiencing domestic violence and also test their decision-making skills.
Keywords: Oral health professionals identify patients who may be victims of domestic violence; other oral health professionals; educating oral health professionals

Affiliations: 1: University of Minnesota School of Dentistry.