Recent Hague Convention Child Abduction Cases
Author: Anne L. Perry.
Source: Volume 19, Number 02, December/January 2014 , pp.19-21(3)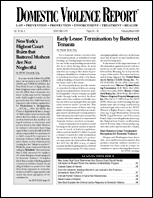 < previous article |next article > |return to table of contents
Abstract:
The Hague Convention on the Civil Aspects of International Child Abduction, implemented through the International Child Abduction Remedies Act (ICARA), 42 U.S.C. §§ 11601 et seq., proposes "to secure the prompt return of a child wrongfully removed to or retained in any Contracting State." Where a court determines that a child was wrongfully removed from the child's "habitual residence" in breach of custody rights actually exercised by the other parent at the time of removal, the court "shall order the return of the child forthwith." Several exceptions exist to the right of return: consent or acquiescence to the removal or retention; if there is a "grave risk" that return will result in harm; if the petition is filed more than a year after removal and the child is "well-settled" in the new environment; if the child is mature and objects to return; or if return would conflict with fundamental principles of freedom and human rights. The "grave risk of harm" must be proven by "clear and convincing evidence," a high threshold of proof. Even where a grave risk of harm to the child is established, courts have discretion to return the child to the country of habitual residence where sufficient protections in the form of "undertakings" would ameliorate the risk of harm. For families impacted by domestic violence, the grave risk exception provides courts with an avenue to protect children from return to an abusive parent. These case summaries review Hague Convention cases (last reviewed in Domestic Violence Report in 18 DVR 5 (Oct/Nov 2012)).
Keywords: southern district of New York denies return of 15 year old; Jakubik v. Schmirer, 2013 WL 3866636 (S.D.N.Y. 2013); Eastern District of New York Denies Return of Well-Settled Siblings Despite No Grave Risk; Broca v. Giron, 2013 WL 3745985 (2d Cir. 2013

Affiliations: .