Insidious Witness Intimidation Thwarts DV Prosecutions
Author: Teresa M. Garvey, J.D..
Source: Volume 19, Number 02, December/January 2014 , pp.17-21(5)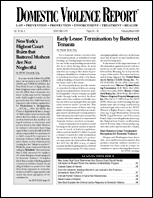 next article > |return to table of contents
Abstract:
Police and prosecutors frequently identify witness intimidation, or witness reluctance or refusal to cooperate, as a significant problem in successful prosecution of crimes, particularly those involving domestic violence. In September 2010, AEquitas began work on the special initiative, Improving the Justice System Response to Witness Intimidation (IWI). Three pilot sites (Duluth Minnesota; Knoxville, Tennessee; and San Diego, California) were chosen to conduct safety audits to investigate the occurrence of, and systemic response to, witness intimidation in those communities. Criminal justice professionals and practitioners undertook investigative activities, reported their findings, and made recommendations to address gaps in witness safety. IWI's mission is to improve the quality of justice and safety of victims and witnesses susceptible to witness intimidation by developing, evaluating, and refining justice system practices that raise community awareness and increase victim safety and offender accountability.
Keywords: verbal and non-verbal communications; threats implied by conduct; emotional manipulation; involvement of children; restraining orders; orders of protection; relocation of witnesses; dangers of social networking sites

Affiliations: 1: AEquitas.