Complete Issue
Author: D. Kelly Weisberg.
Source: Volume 19, Number 03, February/March 2014 , pp.33-48(16)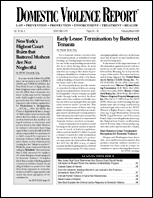 < previous article |return to table of contents
Abstract:
This is the complete issue, Volume 19 Number 3. It includes the full text of all the articles listed above, with hyperlinks from table of contents entries to articles and linked article continuations, to facilitate reading.
Keywords: gun owning and misdemeanor domestic violence; "straw purchaser"; international custody dispute; Operation L. I. P. S. T. I. C. K. (Boston, MA); Ladies Involved in Putting a Stop to Inner-City Killings; straw purchasers; "Mommy's Black Eye",

Affiliations: 1: Journal Editor, DVR.